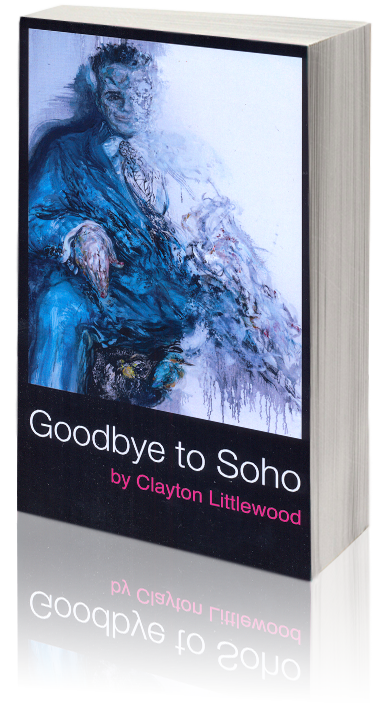 Goodbye to Soho
DWB Press, 272 Pages, May 10, 2012 [Hardback, Paperback, eBook]

Business in London's Soho is not going well and the designer menswear shop that Clayton Littlewood runs with his partner, Jorge Betancourt, is under threat. Will they survive?

Following on from his award-winning diary Dirty White Boy: Tales of Soho. Littlewood is back, watching the hookers, the gangsters, the rent boys and following the same strange characters who make up this strangest of villages.

Will eccentric artist Raqib Shaw continue on his path to artistic immortality? Can Sue and Maggie, the Soho madams, keep the law at bay? What will become of Chico, the imprisoned ex-Diana Ross impersonator? And what of the Prince of Soho himself, Sebastian Horsley? Will America welcome him to its shores?

Goodbye to Soho is a snapshot of modern London life – a Samuel Pepys diary for the Soho subculture.



"Clayton's characters come to life in this neon drenched book."
– Marc Almond
"Downright Dickensian… not simply a good writer, but a great writer."
–
Polari Magazine
"As scurrilous and as entertaining as ever."
– Rupert Smith
author of
A Man's World
"I truly hope this this is not 'Goodbye'…"
– Michael Tonello
author of
Bringing Home The Birkin
"Like Isherwood's Berlin, Littlewood's Soho comes to life right off the page."
– Jonathan Kemp
author of
London Triptych
"That dirty old whore Soho has no better pimp than Clayton Littlewood."
– Tim Fountain
author of
Resident Alien
and
Rock
"A ravenous, compassionate, amused voyeur of the first rank."
– Nicholas de Jongh
Plague Over England
"It's innocently written and proves a frank, funny and moving read made all the more poignant through being non-fiction."
–
GT
"Great stories from a very unpretentious author with a great eye and a big heart and backed up by his rock of a husband Cuban Jorge… written in the most unlikely situations like a diary… weaved & strung together with his personal life and his freak public one, sitting in a window and accessible to life's lost, loveless, lonely, waifs and  fabulous strays. He managed to describe the most vivid characters from a London barrio in despair… lost and longed for… but somehow dead… but he got the last bones of Soho we always wanted Soho to be… and that says a lot really."
– Jamie McLeod
artist and photographer
"While the wider world may view them with fear or disdain, Clayton captures the beggar's humanity and the hooker's humour with warmth that can bring a lump to the throat or leave one roaring with laughter. It might sound strange to be comforted by the daily trials of prostitutes, trannies, prisoners and street sweepers, but that's what Clayton does – brilliantly."
– Stewart Who?
Twisted