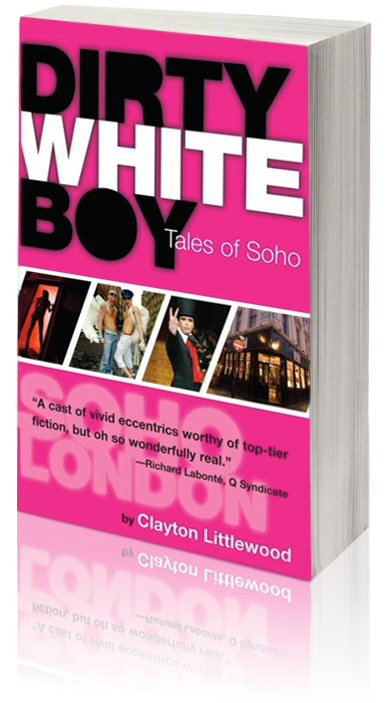 Dirty White Boy
Cleis Press, 350 Pages, Oct 2, 2008 [Paperback, eBook]

Is it appropriate to speak to television personalities when they're buying underwear? How should you react when a transsexual wants to show you her latest surgery? What is the correct etiquette for visiting a brothel?

These are the questions that matter in London's Soho neighbourhood, where Clayton Littlewood and his partner Jorge Betancourt run a designer clothing store Dirty White Boy. From his window on one of the busiest street corners in the world, Clayton watches the daily parade of fashion queens, prostitutes, gangsters and celebrities that make up the population of this strangest of villages.

His Soho diary is a snapshot of modern London, caught between the ghosts of the past and the uncertainties of the future.

The cast of characters range from Sue and Maggie, the girls from the brothel upstairs, to Angela the feisty trannie, to Pam the Fag Lady, begging for money and cuddles and Chico, the campest queen on Old Compton Street. Not to mention cameo appearances from stars (Kathy Griffin, Janice Dickinson and Graham Norton).

And amidst all this madness occurs one of the strangest and most touching love stories you will ever read.
"Touching, funny and poignant."
– Sir Elton John
"Funny, perceptive, sexy, exquisitely observed."
– Stephen Fry
"Soho is like a dustbin and he like a drunk rummaging through it. He shows us that all that glitters is not gold and all that smells is not garbage."
– Sebastian Horsley
author of
Dandy in the Underworld
"The queer descendent of Samuel Pepys, Clayton captures the day-to-day drama of his London in al its demented glory."
– Michael Thomas Ford
author of
Alec Baldwin Doesn't Love Me
"A hilarious and poignant fly-on-the-wall view of Soho. Clayton is the wisest fly you will ever meet."
– Josh Kilmer-Purcell
author of
I Am Not Myself These Days
"Funny. Observant. Compulsively readable. Like one of those historic diaries like Samuel Pepys or Virginia Wolf."
– Gay.NZ.com
(New Zealand)
"Insightful, humorous, heart-breaking."
– Arthur Wooten
author of
Birthday Pie
"Evokes sights and smells of an historic gaybourhood."
–
Toronto Star
(Canada)
"The more I read the more I became totally engrossed. The rich cast of characters is painted in all their beauty and dirtiness making for some terrific tales."
– GayNewsBits.com
"Does for Soho in the digital age what Samuel Pepys and Daniel Defoe did for London in the 17th Century."
– AfterElton.com
"A sense of historic Soho (Rimbaud and Verlain, Quentin Crisp) percolates through the book."
–
One 80 Magazine
"Real life stories with a Hogarthian incisiveness."
–
West End Extra